Review: The Flash #49
Writer: Joshua WilliamsonrnrnArtist: Howard Porterrnrn rnrnSummaryrnrn"FLASH WAR" part three! There's only one thing that can put Wally West's life back together. As he races back to the present, he has one goal: break the Speed Force! Can The Flash stop his former sidekick before it's too late?rnrn rnrnPositivesrnrnWhile Wally attempts to break the Speed Force to rescue his children, Jai and Irey, Barry races to prevent him. Barry doesn't trust that Zoom is telling the truth, and wants to prevent Wally from making a mistake similar to Barry's creation of the Flashpoint.rnrnrnHowever, their race is proving detrimental to the Earth. so their teammates in the Justice League and Titans gather to try to stop them. Superman attempts to catch up to them, but they are going too fast to even notice him. This series may or may not answer whether Barry or Wally is faster, but it does definitively establish that both are faster than Superman.rnrnIt's great to see that Barry decides to trust Wally in the end and help him. Unfortunately, it turns out that Barry was right to suspect Zoom's motivations. Zoom really wanted Wally to break the Speed Force to allow him to access the Speed Force, as well as two other similar forces: the Sage Force and the Strength Force. With these abilities, Zoom now declares himself to be the true Flash.rnrnI also find it interesting that the Flash costume Zoom dons is the classic Silver Age Flash costume from the pre-Flashpoint DCU. Perhaps this might presage a reintroduction of that costume to the official canon.rnrnrn rnrnNegativesrnrnI can find little to fault with this issue. I did have reservations that there could be reason for Wally and Barry to come into conflict, but Williamson has given adequate justification.rnrn rnrnVerdictrnrnDespite this being an eventful summer for DC, the Flash War stands out as one of the most compelling storylines. I eagerly await the concluding chapter in two weeks.
Sun-07-18 16:19
- Posted by powerfrombeyond
No Replies
Infinity War's Exclusion of Ant-Man & The Wasp Was Ideal for Director Peyton Reed
Peyton Reed, director of Ant-Man and the Wasp, discussed some of Marvel Studios' choices regarding the title characters' appearances in other movies, in a new interview.rnrnReed explained (via IGN) that it was important to make Ant-Man and the Wasp its own movie, different in scope and tone from Avengers: Infinity War . As a sequel to Ant-Man, the focus had to stay on the main characters and how they developed in their own journey, rather than how they supported the crossover storylines of the MCU.rnrnRELATED: Ant-Man Fan Theory Finally Confirmed By Kevin FeigernrnAfter debuting in his solo film, Scott Lang (Paul Rudd) made an appearance in Captain America: Civil War when recruited by Steve Rogers to join the fight against his former teammates. Fans have been waiting since then to see him again, although his absence in Avengers: Infinity War was accounted for onscreen by other characters referring to his criminal record and his choice to put his family first. Previews for Ant-Man and the Wasp have also made some tongue-in-cheek references to Scott entertaining himself during house arrest while the Avengers are occupied with the fate of the universe.rnrnrnThe use of his Ant-Man and the Wasp co-star, however, presented a different challenge. Hope van Dyne (Evangeline Lilly) was introduced alongside Scott in Ant-Man, but the reveal that she would become the superhero Wasp didn't come until a post-credits scene, in which her father shows her a costume like the one that her mother once donned. That meant that Hope's next appearance in the films had to be her debut as the Wasp.rnrnWhile this could have happened in an ensemble movie, Reed said, "There simply wasn't screen time to do justice to that character, so we've done it here."rnrnRELATED: Evangeline Lilly's Wasp Gets the Glorious Hot Toys TreatmentrnrnNow that Ant-Man and the Wasp are both getting their due time in the spotlight, there may be all kinds of opportunities for the characters to appear in future MCU movies – if Reed can bear to let them go. "Whenever these heroes pop up in movies I'm not involved in, I get jealous," he joked. "The Russos [directors of Captain America: Civil War and Avengers: Infinity War] and I still have a thing about it."rnrnAnt-Man and the Wasp­ will be released to theaters on July 6. It is directed by Peyton Reed and stars Paul Rudd and Evangeline Lilly, as well as Bobby Cannavale, Michael Peña, Tip "T.I." Harris, Judy Greer, David Dastmalchian, Michael Douglas, Michelle Pfeiffer, Laurence Fishburne, Hannah John-Kamen, Randall Park and Walton Goggins.
Sun-07-18 13:54
- Posted by powerfrombeyond
No Replies
Batman/Catwoman Wedding Issue Spoiled Ahead of Release
Ahead of the July 4 release of Batman #50, marking the wedding between the Dark Knight and Catwoman, major details have made their way online for how the big day will go down between the Bat and the Cat.rnrnThe New York Times released an article Sunday morning, revealing Selina Kyle will choose not to marry Bruce Wayne, realizing that a happily married Batman wouldn't be able to properly do his job of protecting the citizens of Gotham City.rnrnRELATED: What Will It Really Mean When Batman and Catwoman Are Married?rnrnBruce Wayne proposed to Selina Kyle in Batman #24, with the series working its way towards the wedding by having Catwoman become a regular guest-star. Storylines included Batman and Catwoman going on a double-date with Superman and Lois Lane; the Bat and Cat's relationship being tested when Batman and Wonder Woman spent over 10-years stuck together in another universe; and Booster Gold accidentally creating an alternate timeline (nicknamed Batpoint) where Bruce never became Batman.rnrnIssues #48-49 introduced the Joker, who learned of the upcoming wedding and began to make it his demented mission to attend, leading to a confrontation with both Batman and Catwoman. DC Comics also released Batman: Prelude to the Wedding one-shots, focusing on different members of the Bat family (Robin, Nightwing, Batgirl, Red Hood and Harley Quinn) as they prepared for the nuptials as well.rnrnBatman #50 goes on sale July 4 from DC Comics.
Sun-07-18 13:45
- Posted by powerfrombeyond
No Replies
dasdfasd
0rnCommentsrnLooks like at least part of Season 4 of The CW's Supergirl will be inspired by one of DC Comics' most iconic "What If?" comic book stories, Superman: Red Son.rnrnIn the closing moments of "Battles Lost and Won," a second Kara (Melissa Benoist) showed up in a snowy Siberia, wrapped-up in nothing more than a blanket where she was found by Russian soldiers. This "clone" of the Girl of Steel was born from the aura that escaped during the final battle with Reign (Odette Annable).rnrnDuring an interview with TVLine about the Season 3 finale, showrunners Robert Rovner and Jessica Queller confirmed that next season will take some of its cues from Red Son, which told an alternate origin story for the Man of Steel.rnrn"For fans of the comics, I think they might recognize that the story we want to tell is inspired by the iconic DC Comics' Red Son, which told an alternate origin story for Superman," Rovner said, with Queller adding: "What happened if — as a baby — Superman landed in Russia and became a hero there instead of in America. It's an homage to that."
Tue-06-18 18:27
- Posted by powerfrombeyond
No Replies
Low Kick Tutorial & Drills
Tue-06-18 15:04
- Posted by powerfrombeyond
No Replies
BKA - Episode #24 - Changing Levels #2 - Lead Hooks to Body
Tue-06-18 15:03
- Posted by powerfrombeyond
No Replies
Unretired Brad Pickett signs multi-fight deal with ACB, set for London debut
Thu-06-18 15:52
- Posted by powerfrombeyond
No Replies
hulk smash you
Tue-06-18 19:42
- Posted by powerfrombeyond
No Replies
Kodiak bear vs African lion
or the bear, relatively speaking, it's "What neck?". Here's another problem: Yes, Lions are known for killing or stunning prey with one blow. Here's the thing: So aren't bears! And bears do fight each other. As such, as an evolutionary pressure, I'd argue that they've developed the ability to resist said blows, while the Elan's resistance is not getting hit in the first place. You can see it in the skull and neck pictures - While a Kodiak might be smaller than the Elan, on average, it's skull is far more heavily built, and doesn't have a long neck to allow spine-snapping amounts of torque to be built up. Instead you have a relatively reinforced neck capable of taking far more punishment. Now, despite all this, I'm not saying that the bear will automatically be the winner. I'm just saying that the vast majority of the evidence presented isn't compelling.
Wed-06-18 20:47
- Posted by powerfrombeyond
No Replies
The Mongols Preferred Surrenders To Massacres
Wed-06-18 20:40
- Posted by powerfrombeyond
No Replies
10 Controversial Alternative Views Of Historical Events
t's fun to look at famous historical events from another angle; you never know what kind of new information and insights you can get. Some might be undoubtedly crazy and some might be remotely possible, if not actually true. Let's go through some famous happenings throughout history—only this time, we'll be looking at them from another viewpoint.
Wed-06-18 20:39
- Posted by powerfrombeyond
No Replies
Donald Glover "in talks" to play Willy Wonka
Wed-06-18 20:38
- Posted by powerfrombeyond
No Replies
More On WWE Summerslam Leaving Brooklyn After This Year, Relive AJ Styles' Stage Dive Onto Bully Ray At Slammiversary '11 (Video) Read more at http://www.mandatory.com/wrestlezone/news/962075-more-on-wwe-summerslam-leaving-brooklyn-after-this-year-relive-aj-styles-stage-dive-at-slammiversary-11-video#lFipqwvfjgFUPyHJ.99
Wed-06-18 20:36
- Posted by powerfrombeyond
No Replies
WWE Ex-WWE Wrestler Grandmaster Sexay Arrested, Allegedly Ditched Hotel Bill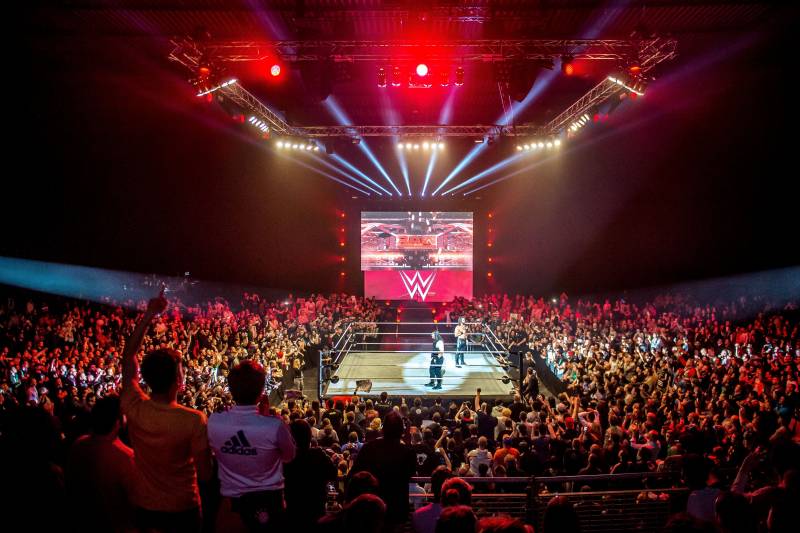 Wed-06-18 20:34
- Posted by powerfrombeyond
No Replies
Why Hulk May Wear a New Suit in Avengers 4
Wed-06-18 19:29
- Posted by powerfrombeyond
No Replies
Justice League Hints At The Death & Return Of The Justice Society of America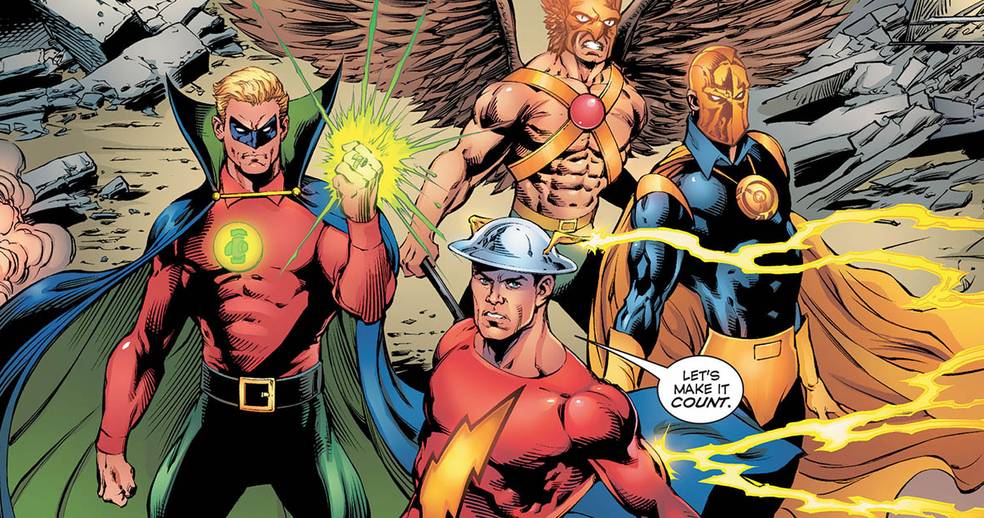 Wed-06-18 19:28
- Posted by powerfrombeyond
No Replies
DC Just Drafted Two Hanna-Barbera Heroes to the Ranks of Batman Inc.
Super Sons/Dynomutt Special #1 by Peter J. Tomasi, Oclair Albert and Fernando Pasarin just retconned a Hanna-Barbera character into the roster of Batman Incorporated. The superhero franchise has welcomed into its hallowed halls Blue Falcon and his faithful robot dog Dynomutt, both from the Saturday morning cartoon Dynomutt, Dog Wonder. The union is an appropriate one, as the animated series followed the exploits of the bumbling Dynomutt and his owner, Blue Falcon, whose design and moral compass was heavily inspired by Batman. Sadly, the story that leads the duo to their place in Batman Inc. is surprisingly bleak. The crossover begins with Superboy ditching a funeral with Robin to go check out Big City, Blue Falcon's old stomping ground. As it turns out, Blue Falcon was perhaps even more prolific than Batman in his day, having effectively wiped out crime in Big City, a feat Batman hasn't even come close to accomplishing in Gotham City — which makes what happens next even more heart-breaking. A damaged and dying Dynomutt appears suddenly, begging the boys for help. As Dynomutt recounts his tale of woe, he reveals Blue Falcon has gone mad and tried to kill him. RELATED: Speed Buggy's New Origin is a Straight Up Body Horror Story On the way to Blue Falcon's headquarters (and Dynomutt's salvation), Robin explains the Hanna-Barbera hero's long, retconned history with Batman. The Boy Wonder says that Blue Falcon is actually Radley Crowne, a billionaire vigilante like Bruce Wayne. The two apparently hit it off, because Batman invited Blue Falcon to join Batman Inc. Blue Falcon accepted and fought alongside Batman and other franchisees to thwart global threats like Leviathan, the criminal organization founded by Talia al Ghul. Rumors in Batman Inc. circles said that Blue Falcon had designed a way to reanimate genetic imprints using technology, and that Dynomutt, Blue Falcon's ever-faithful sidekick, was a reanimated family pet — which is completely true.
Wed-06-18 19:26
- Posted by powerfrombeyond
No Replies
Lex Luthor and the Legion of Doom Have Just Murdered A Major DC Character
Lex Luthor is a baddie again, but it's not that simple. The events of Justice League: No Justice have given him a whole new expanded outlook on life and it's the makings of the most dangerous Lex Luthor we've even seen. Allied with Sinestro, Gorilla Grodd, The Joker, Black Manta and Cheetah, Lex has a new purpose in life that directly conflicts with that of the Justice League, but in his mind it doesn't necessarily have to be. However, in order to get what he wants and what he needs, there's one person standing in his way… and that person needs to be taken out for good. Hall of Doom While much of Scott Snyder's new Justice League owes its origins to the Justice League and Justice League Unlimited cartoons, there's also a heady-helping of Super Friends in there. The Legion of Doom has never really existed in mainstream continuity before; it's always been the Injustice Gang or the Secret Society of Super-Villains, so the Legion arriving in such a major way is a big deal. And, if we're harkening back to Super Friends, they're going to need their iconic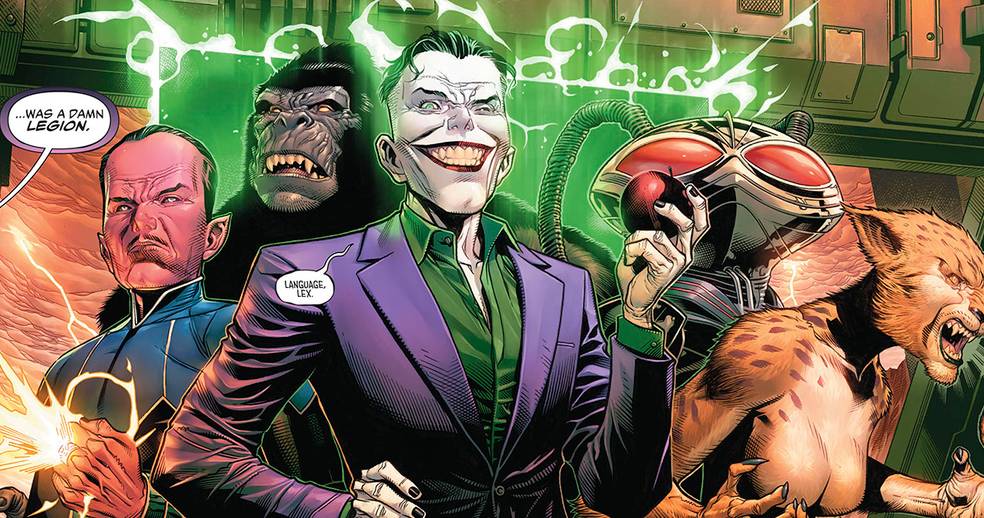 Wed-06-18 19:26
- Posted by powerfrombeyond
No Replies
Man Of Steel #1 // Review
Man Of Steel #1, by Brian Bendis, Ivan Reis, Jason Fabok, Joe Prado, and Alex Sinclair, is the beginning of a new era for the Man of Tomorrow. Who is Rogol Zaar and what does he have to do with the destruction of Krypton? Man of Steel 1 1.jpg The story alternates between the past, with Rogol Zaar listing the crimes of Krypton to a past version of the Quintessence (DC's council of cosmic beings) and asking for their permission to destroy the planet, and the present, with Superman in Metropolis busting Firefly and Killer Moth and then rescuing people from a building fire. Superman suspects the fire, which isn't the first building fire in the Metropolis lately, could be part of something bigger, and the new deputy fire chief, a Coast City transplant named Melody Moore, agrees with him. Superman tells her to call Clark Kent if she finds out anything. In the past, the Quintessence turns down Zaar's request. Back in the present, Superman is at home with Jon and Lois when a flash of white light hits them. So, the big question surrounding Bendis' Superman is how well he'll be able to handle Superman and the types of stories one tells with the character and his supporting cast. If this issue is any indication, and it's just one issue, so it's hard to make a complete judgment on that, he's got a pretty good handle on the character. One of Bendis' big problems is that he doesn't always use a character's individual voice. At Marvel, he fell back on a Spider-Man-esque voice for most of the characters he wrote and there was a lot of fear that he would bring that sort of thing with him to DC. Again, this is just one issue, but he seems to understand how Superman sounds and the kinds of things he would say. There's an exchange between Killer Moth and Firefly that's classic fast paced Bendis dialogue and when Superman apprehends them, he gets in on it, but it doesn't feel out of character at all. It's an exchange that works extremely well. He also uses caption boxes to show Superman's internal monologue, which is something that Bendis has eschewed in the past. It feels like in the move to DC, he's moving out of his comfort zone in little ways and that's a good thing for him. An intriguing part of the story is Rogol Zaar's listing Krypton's so-called crimes. He posits that for their science and trade power to expand, they'll have to begin conquering other worlds and bleeding them dry of resources. It seems like a bit of statement about current day America and also feels a little like Thanos' origin in Avengers: Infinity War. The latter bit is an odd coincidence, but the former bit is smart commentary and a Superman comic is exactly the right place for it, seeing as how Superman represents the best of America and the actions that Rogol Zaar is against can be looked at as a representation of the worst of America and the hyper capitalist system that those currently in power believe in. Comics aren't always the best place for political discourse, but if this whole things plays out like it very well, with Zaar coming to Earth and feeling the same about it as he felt about Krypton, it'll place Superman in a very interesting showdown with a villain who he would probably agree with if his methods weren't evil. There are two wrinkles to the book, though. Bendis under utilizes Lois and Jon. Now, this could be because he was more interested in writing about Superman and setting up his plot, which is completely understandable. However, that wrinkle is sort of related to the second one, which is deputy fire chief Melody Moore and her crush on Superman. Another very real fear that fans of Superman have is Bendis messing with the Kent family. One of the biggest parts of the Rebirth Superman books was the inclusion of the Kent family and their dynamic. It humanized Clark in a way that readers had never seen before. Bendis is known for injecting cheap, soap opera-esque drama into things, but he's also known for trolling readers, so this whole thing could be a troll. Time will tell, of course. Ivan Reis' art is a highlight on the book. Reis is a seasoned pro and it shows here. It also helps that he has his preferred inker, Joe Prado, and one of the best colorists in the industry, Alex Sinclair. There are two double splash pages in the book, one of Rogol Zaar speaking to the Quintessence and the other of Superman flying with Firefly and Killer Moth in tow, and they are wonderful. The Rogol Zaar one captures the majesty and power of the Quintessence and the Superman one is classic Superman, conveying the grandeur and wonder that is Superman. Jason Fabok pencils the last two pages and completely sells the cliffhanger with the Kents' expressions making the reader wonder what they are seeing.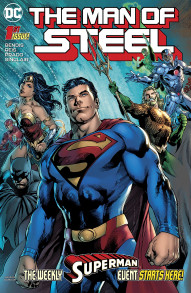 Sun-06-18 19:53
- Posted by powerfrombeyond
No Replies
bachata
Sat-06-18 19:13
- Posted by powerfrombeyond
No Replies
bachata
Sat-06-18 19:12
- Posted by powerfrombeyond
No Replies
How To Break Up With A Hot Gir
Mon-05-18 18:24
- Posted by powerfrombeyond
No Replies
its a lion the king of the jungle
Sun-05-18 18:14
- Posted by powerfrombeyond
No Replies
Monday is National Burger Day; here's Brevard's ode to the humble hamburger
A hamburger, beefburger or burger is a sandwich consisting of one or more cooked patties of ground meat, usually beef, placed inside a sliced bread roll or bun. The patty may be pan fried, barbecued, or flame broiled.
Sun-05-18 18:10
- Posted by powerfrombeyond
No Replies
UFC Liverpool results: Darren Till beats Stephen Thompson in controversial decision
Darren Till came away with the victory in the eyes of the judges in his hometown. Just perhaps not in the opinion of the majority of onlookers. Till defeated Stephen Thompson by unanimous decision (48-47, 49-46, 49-46) in the main event of UFC Liverpool on Sunday in a razor-close bout that many thought Thompson won. The bout was a technical, tactical one. Not many strikes landed over the five rounds. Till was in pursuit throughout, with Thompson evading and sometimes countering. Thompson landed the harder, cleaner shots in the first round and Till did better in the second. The third and fourth were incredibly close — they could have gone either way — and Till exploded in the fifth, dropping Thompson with the most significant action of the bout. Afterward, Till ranted in the post-fight interview with Dan Hardy with the Liverpool whipped into a frenzy. The majority of his speech was censored on FS1 due to profanity, though. Till (17-0-1), who missed weight Saturday by more than three pounds, is unbeaten in his MMA career and looks primed now for a top contender bout in the welterweight division. The Scouser probably would have loved a finish or a more exciting bout, but he'll certainly take the win over the crafty karate fighter. The confident, brash Till, 25, said afterward that he'd take "everyone" next. Thompson (14-3-1) has now lost two of three, but both were close decisions — the former in a welterweight title fight against Tyron Woodley last year. The South Carolina native remains a very tough matchup for anyone at 170 pounds due to his striking prowess. Thompson, 35, will remain near the top of the division, but coming up empty handed twice against Woodley — the first time was a draw — and now this loss to Till will hurt his standing in the division for now. Neil Magny didn't have much to gain taking a short-notice, unknown opponent when Gunnar Nelson fell off the Liverpool card. But Magny still came out for the better Sunday. Magny dropped Craig White, the former Cage Warriors star, with a knee to the head up against the cage and then poured on the strike while White was grounded. The finish came at just 4:32 of the first round.
Sun-05-18 18:06
- Posted by powerfrombeyond
No Replies
How Purdue is incorporating MMA
How Purdue is incorporating MMA drills into their strength training
Sun-05-18 18:03
- Posted by powerfrombeyond
No Replies
pizza is so good and delicious
Pizza is a traditional Italian dish consisting of a yeasted flatbread typically topped with tomato sauce and cheese and baked in an oven. It can also be topped with additional vegetables, meats, and condiments, and can be made without cheese. The term pizza was first recorded in the 10th century, in a Latin manuscript from the Southern Italian town of Gaeta in Lazio, on the border with Campania.[1] Modern pizza was invented in Naples, and the dish and its variants have since become popular and common in many areas of the world.[2] In 2009, upon Italy's request, Neapolitan pizza was registered with the European Union as a Traditional Speciality Guaranteed dish.[3][4] The Associazione Verace Pizza Napoletana (True Neapolitan Pizza Association), a non-profit organization founded in 1984 with headquarters in Naples, aims to "promote and protect... the true Neapolitan pizza".[5]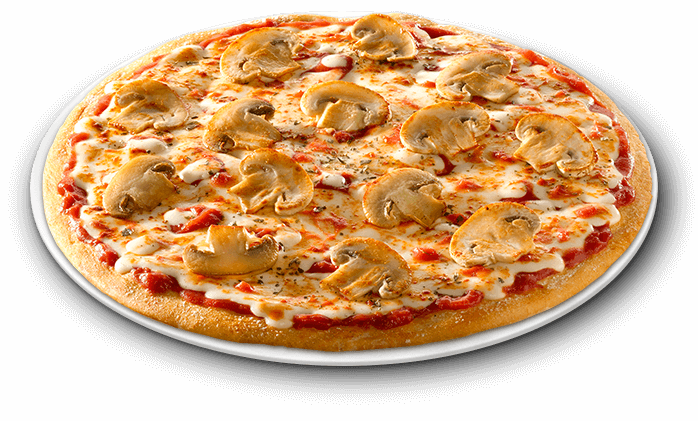 Sun-05-18 18:00
- Posted by powerfrombeyond
No Replies
nice girl
Sun-05-18 17:57
- Posted by powerfrombeyond
No Replies
girl outside smiling
Sun-05-18 17:47
- Posted by powerfrombeyond
No Replies