UFC Liverpool results: Darren Till beats Stephen Thompson in controversial decision
Darren Till came away with the victory in the eyes of the judges in his hometown. Just perhaps not in the opinion of the majority of onlookers. Till defeated Stephen Thompson by unanimous decision (48-47, 49-46, 49-46) in the main event of UFC Liverpool on Sunday in a razor-close bout that many thought Thompson won. The bout was a technical, tactical one. Not many strikes landed over the five rounds. Till was in pursuit throughout, with Thompson evading and sometimes countering. Thompson landed the harder, cleaner shots in the first round and Till did better in the second. The third and fourth were incredibly close — they could have gone either way — and Till exploded in the fifth, dropping Thompson with the most significant action of the bout. Afterward, Till ranted in the post-fight interview with Dan Hardy with the Liverpool whipped into a frenzy. The majority of his speech was censored on FS1 due to profanity, though. Till (17-0-1), who missed weight Saturday by more than three pounds, is unbeaten in his MMA career and looks primed now for a top contender bout in the welterweight division. The Scouser probably would have loved a finish or a more exciting bout, but he'll certainly take the win over the crafty karate fighter. The confident, brash Till, 25, said afterward that he'd take "everyone" next. Thompson (14-3-1) has now lost two of three, but both were close decisions — the former in a welterweight title fight against Tyron Woodley last year. The South Carolina native remains a very tough matchup for anyone at 170 pounds due to his striking prowess. Thompson, 35, will remain near the top of the division, but coming up empty handed twice against Woodley — the first time was a draw — and now this loss to Till will hurt his standing in the division for now. Neil Magny didn't have much to gain taking a short-notice, unknown opponent when Gunnar Nelson fell off the Liverpool card. But Magny still came out for the better Sunday. Magny dropped Craig White, the former Cage Warriors star, with a knee to the head up against the cage and then poured on the strike while White was grounded. The finish came at just 4:32 of the first round.
Sun-05-18 18:06
- Posted by powerfrombeyond
ana White on Chuck Liddell's comeback: 'I asked him to retire 10 years ago for a reason'
Eight years ago, shortly after suffering his third consecutive knockout loss, Chuck Liddell hung up his MMA gloves at the request of UFC president Dana White. But now Liddell is officially on the comeback trail, and not surprisingly, White isn't a fan of the idea. "I hope he's coming out of retirement to be partners with (Golden Boy Promotions owner Oscar) De La Hoya and not to fight. I hope he doesn't fight," White said Sunday at UFC Liverpool's post-fight press conference. Liddell, 48, announced his intentions to come out of retirement earlier this month on The MMA Hour. "The Iceman" is targeting a November trilogy fight against longtime rival Tito Ortiz in either Las Vegas or California under the Golden Boy Promotions banner. Liddell's longtime head coach John Hackleman recently said that although he doesn't like Liddell's comeback plans, he is planning to support Liddell "100 percent." White has long opposed a Liddell comeback to MMA. The UFC president gave "The Iceman" a supposed lifetime executive role within the UFC in 2010 upon Liddell's retirement, however the former light heavyweight champion was laid off from that role in 2016 following the sale of the UFC to entertainment giant WME-IMG. Given that, Liddell expressed little interest in hearing White's concerns about his potential comeback. "With all due respect, yeah, leave it alone. Leave me alone," Liddell said regarding White on The MMA Hour. "You promised something to me for a long time and it's gone." Nonetheless, White reiterated his concerns Sunday in the aftermath of UFC Liverpool. Asked if he believes De La Hoya is simply using Liddell to make a big introductory splash into the MMA side of the fight game, White was blunt. "I don't know if De La Hoya's that smart," White said. "He isn't the brightest bulb on the porch. Oscar De La Arum is not that bright, but I don't know what he's thinking. Hopefully Chuck's going to be his business partner and not fight. The last thing I want to do is sh*t on Chuck Liddell, because I love him, but I asked him to retire 10 years ago for a reason."
Mon-05-18 18:18
- Posted by powerfrombeyond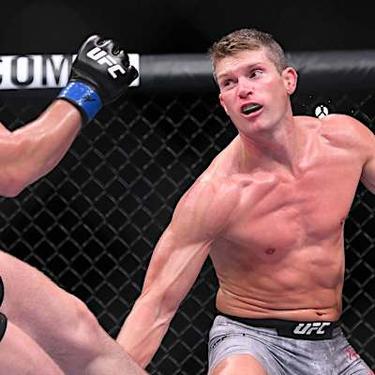 Mon-05-18 18:20
- Posted by powerfrombeyond
UFC Liverpool in Tweets: Pros react to Darren Till vs. Stephen Thompson, more
Darren Till edged out Stephen Thompson to score the biggest win of his career Sunday at UFC Liverpool, but was it the right call? Fighting in front of a raucous hometown crowd at Liverpool's Echo Arena, native Scouser Till captured a unanimous decision over Thompson (48-47, 49-46, 49-46) to catapult himself into title contention. However, the scorecards were instantly controversial — 22 out of 24 media members scored the fight for Thompson, and social media exploded with debate over how things played out. Check out reaction to Till vs. Thompson below, plus the best of the rest from UFC Liverpool.
Mon-05-18 18:21
- Posted by powerfrombeyond
dsdfdsfdfs
Tue-05-18 21:44
- Posted by powerfrombeyond
punch it
Mon-06-18 20:09
- Posted by powerfrombeyond
punch it
Mon-06-18 20:09
- Posted by powerfrombeyond